Guess this reformer Day 2!
Blog Writers
-
Fri Oct 28, 2011
@ 02:32PM
Yesterday's answer was....drumroll please...JOHN CALVIN! Congratulations to 'Mom' for getting that one! Here's today's "Guess this reformer". Comment below if you think you know the answer to this one...
WHO AM I?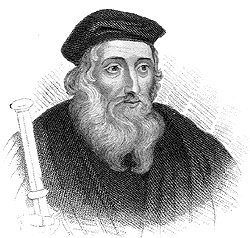 I played an important role in translating the Bible into our common language. I was born in England, and I was an English Scolastic philospher. Who Am I?